How to reach Nice ?
- Nice Côte d'Azur Airport is an international airport deserving most European cities and many international cities. For more information, visit the NCA website : Nice Côte d'Azur Airport.
- Nice railways station is also well connected to most French cities.
Where is IQFA's Colloquium located ?
The Colloquium takes place on the Campus Saint Jeean d'Angély (SJA) of the Université Nice Sophia Antipolis.
The exact address is : Institut Supérieur d'Economie et de Management (ISEM), 24 Avenue des Diables Bleus / Rue du 22ieme B.C.A, 06300 Nice
Please, have a look on the dynamical map above to have the coordinates and to the localisation map below.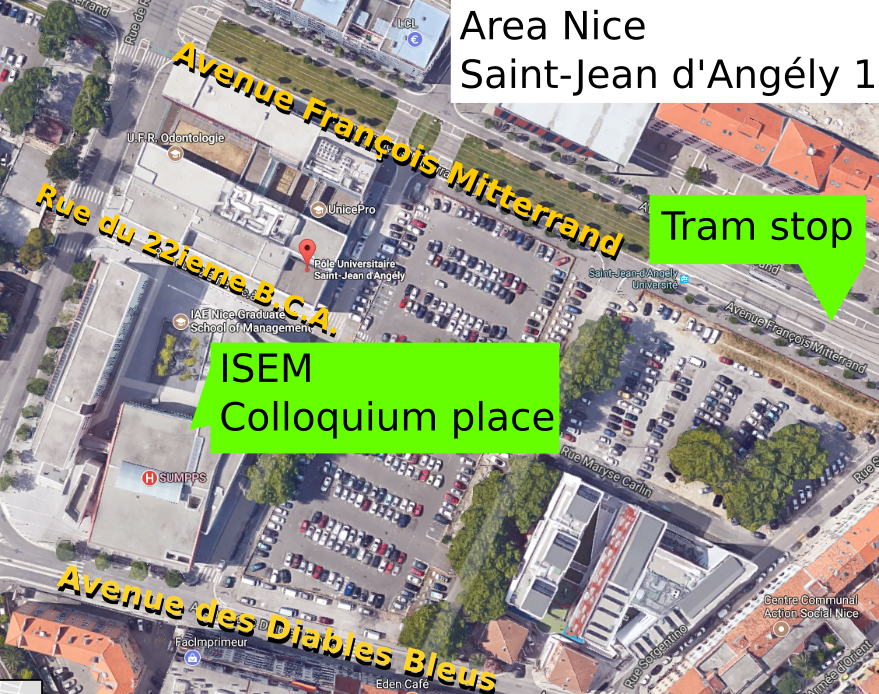 The Campus SJA is connected to the Tranway line T1 and to Bus lines from anywhere in the city centre.
By bus

Line 14/27 Square Daudet / Pont Michel
Line 20 Gustavin / Parc Vigier-Col de Bast
With both lines, stop at Saint-Jean d'Angély

By tramway

Line T1 Las Planas / Pont Michel
Stop at Saint-Jean d'Angély
Also note that there are 2 airport shuttles (Bus n°98 and 99) operating on regular basis (every 30 min) linking the city center (98) / railway station (99), special fare (AERO) 10€ per trip.
For more information, please visit the website Lignes d'Azur for Bus and Traway schedules.
Accomodations in Nice with easy access to the Saint Jean d'Angély campus (distance from conference centre)



Hotel whose price is below 80€

Hotel Kyriad (1200m by foot or tramway)
Hotel Ibis Style (1200m by foot or tramway)
Hotel Campanile (1200m by foot or tramway)
Apparthotel Adagio (1100m by foot or tramway)
Appart'City (400m by foot)
Hotel Au Picardy (1600m by foot or tramway)
Hotel whose price is between 80€ and 100€/night
Hotel Monsigny (25min by tramway only)

Hotel Novotel (700m by foot)

Hotel Ibis (700m by foot)
Hipark Residence (600m by foot)

Hotel whose price is between 100€ and 200€/night

Hotel Beau Rivage (20min tramway only)
Hotel Massena (20min tramway only)
Hotel NH (600m by foot or tramway)
Luxury hotel over 200€/night

Hotel Negresco (do you really care about distance?)

Hotel Palais de la Méditerranée (do you really care about distance?)